Now, in 2017, Cheile Grădiștei Moieciu & Fundata gather more than 370 rooms and 800 accommodation spaces, as well as football and tennis fields, a sports hall and a biathlon arena, that have turned this resort into a unique destination.
What does tourism entrepreneurship look like? What motivates the entrepreneur and how does he find inspiration?
In the case of Ovidiu Gârbacea, discipline and a passion for sports became his inexhaustible energy sources. Multiple national cross-country skiing champion, university champion and Balkan champion, coach of an Olympic Lot with remarkable results, Gârbacea decided to retire and start his own business alongside his wife, Dorina.

He started in 1993, with a logging company, and carried on by investing in hotels in the Cheile Grădiștei Moieciu area, until finally, in 2006, he realized that he needed a complex infrastructure in order to truly meet the needs of the tourists.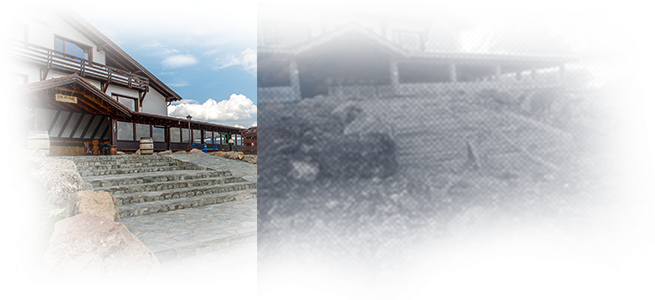 Therefore, he decided to buy a piece of land at an altitude of 1300 meters, right in the heart of a spectacular landscape, and started building the second pole of the resort: Cheile Grădiștei Fundata. An inspired investment, but also an act of bravery: the adventure of connecting the land to the electricity and water supply networks was more like an advanced strategy game than anything else.
His passion for sports followed him throughout his life.
I noticed a few kids in the area, just getting started on their training for cross-country skiing or biathlon, with hardly any resources or infrastructure. So I decided to do something, and see what happens. I worked on all this for six years. There wasn't even an access road, all these were abandoned places. I bought the land, piece by piece, from private owners, and gave new life to this area," the entrepreneur remembers.
The highlight of the Cheile Grădiştei Fundata Touristic Complex is a biathlon range, with the adjoining cross-country skiing slopes, that became a part of the international circuit during the European Youth Olympic Festival (2013). In 2006, Ovidiu Gârbacea was organizing, for the first time, the Cheile Grădiştei Tournament for cross-country skiing and biathlon, that gathered a large number of contestants and offered consistent awards.
When your base isn't well built, with good slopes and good snow, you can practice touristic orientation or backcountry skiing, but you won't do any cross-country skiing or biathlon," the former coach explains. "Now, we're already organizing competitions: the final tournaments of the men's and women's volleyball Romanian Cup or the Balkan Basketball Championships for juniors. We're open to other suggestions, from other sports.
From a guesthouse and a tractor, to one of the largest and most complex touristic projects in Romania, more than a few elements were necessary: work, passion, inspiration, pragmatism, vision, patience, energy and flexibility. At Cheile Grădiștei, you can feel all these in the air - we are looking forward to having you as guests!
Ovidiu Gârbacea